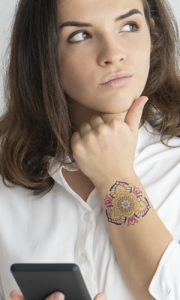 Before you decide to have a tattoo, it is important to ask yourself the following ten questions;
Reasons and Motivations – It is essential that it is entirely your decision and you fully accept the responsibility for the outcome.
1. Why do you want a tattoo?
2. Who are you having the tattoo for?
3. What will the tattoo bring to your life?
Meaning – It is important that the tattoo design is right for you and that it has a positive, life-affirming meaning that will draw positive energy into your life.
4. Do you understand the meaning of your tattoo and the effect it has on your conscious and subconscious mind?
5. Will the symbol be a positive addition to your body and your life?
6. Are you prepared to engage with the creative process that will result in the perfect design to communicate your intended meaning?
Practicalities – You need to be prepared to accept the tattoo process and ask plenty of questions about the practical aspects of having a tattoo.
7. Do you accept that being tattooed may cause pain?
8. Are you aware that the tattoo is permanent, but it may change in appearance over time?
9. Are you willing to spend time finding a tattoo artist who adds to your experience and understands your motivations?
10. Do you understand the aftercare and healing time involved?
Your Tattoo on Other Things
Your Personal Power Symbol is a powerful addition to your daily life. Whether you decide to opt for a tattoo or not, your symbol can become an integral part of your daily life.
You can gain strength and positive energy from your symbol wherever you encounter it. Each time you see it, it acts as an anchor to ground you and remind you of your true priorities, and also as a magnet, attracting positivity into your life.
Not only does it hold truth and meaning, it is also a beautiful, unique work of art that will make your home or workspace a more pleasant place to be.
1. Wall Hanging
The places we spend our time are so important in creating an atmosphere conducive to happiness and success. To create an ambience of positivity and calm, have your own unique piece of art on stretched canvas displayed on your wall. Suitable for any room in the home or the workplace, this is not only a thing of beauty, it is also a talking point for guests and family members visiting your home. As you share your home with people, you can also share your unique symbol and the positive benefits it attracts into your life.
2. T-Shirt
Leave the designer labels behind with a truly unique, truly 'you' fashion statement! Nowhere will you find a more perfect piece of clothing to equip you in your daily life. Comfortable, practical and available in a range of colors, there is no better way to express yourself than with a beautifully finished printed t-shirt featuring your own symbol. Not only does this allow you to wear your symbol with pride, it also allows you to literally face the world with positive energy.
3. Coffee Mug
There is nothing quite as energizing as starting the day with a coffee from your favorite mug and nothing as comforting as wrapping your hands around a hot chocolate or soothing tea on a cold day. This quality printed mug featuring your unique symbol is available in two different sizes and gives you the opportunity to use your symbol every time you use your mug. Turn your coffee break into an exercise in positivity by taking your unique mug into your workplace or calm your mind by meditating on its design as you unwind in the evening.
Each of these beautiful accessories represent a new opportunity to include your Personal Power Symbol in your everyday life. Each of these is an opportunity to increase your awareness of your symbol and its truth, to gain insight into your life path and to further your spiritual journey through meditative practice. They make a truly meaningful gift when given to a loved one; what better gift could you give to someone you care about than a reminder of their inner power?
Visit yourpersonalpowersymbol.com to order a unique accessory and to learn more.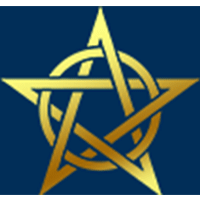 Your Personal Power Symbol is the numerology of your name & the astrology of your date of birth manifested as a unique symbol. It tells the story of your Soul's journey. See how stunning your Power Symbol is at  YourPersonalPowerSymbol.com