It's time to get a Tote Bag, doncha think? They're so convenient, versatile and easy. People love 'em.
In that case, let's get an awesome tote bag.
So, introducing the world's first tote bag displaying your customized mandala-styled Power Symbol.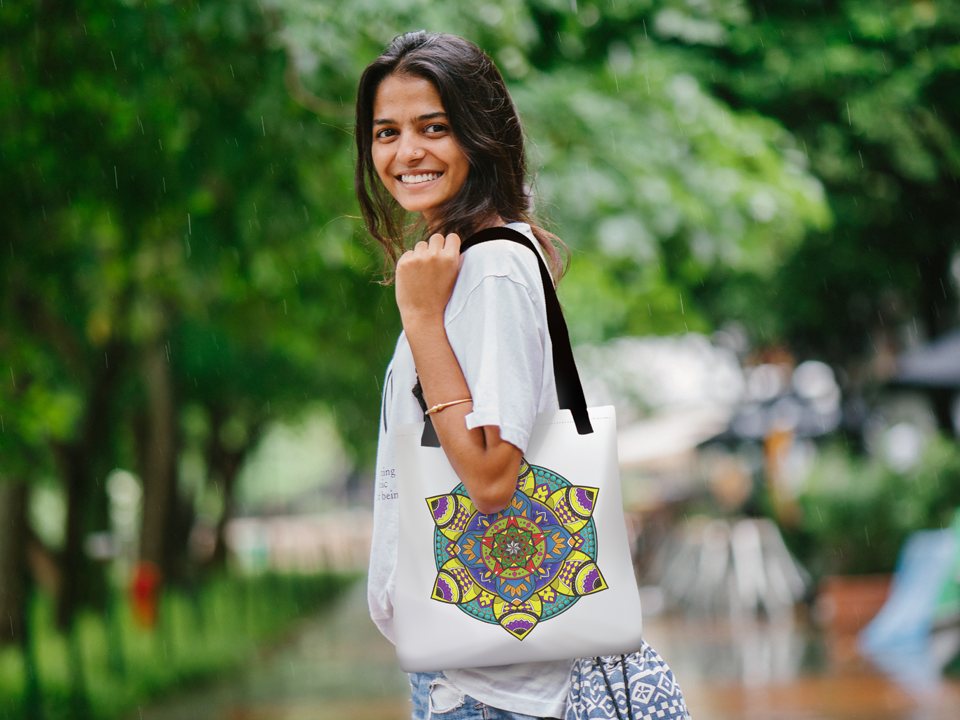 Custom Tote Bags
No matter if it's your beach bag, a reusable shopping bag or an all-purpose shoulder bag, you're going to love the strength and comfort of your Power Symbol Tote Bag. That's because it's cut and hand-sewn from super-durable 100% spun polyester fabric (320g/m) by our in-house team in the USA. The handles are natural cotton bull denim, so they feel comfy on your shoulder without the bite.
The best thing is now you can carry your mandala-styled Power Symbol where ever you go.
What's a Power Symbol?
A Personal Power Symbol is your unique energy symbol. It's the symbol generated from the numerology of your name, and the astrology of your birth. It's not just any symbol but one which follows the principles of sacred-design. It's full of meaning.
Mandala Power Symbol
Mandala means circle, and in the Hindu and Buddhist traditions, mandalas were used for meditation and to maintain mindfulness.
Within the circle of the mandala, the colors and patterns represented the forces of the Universe.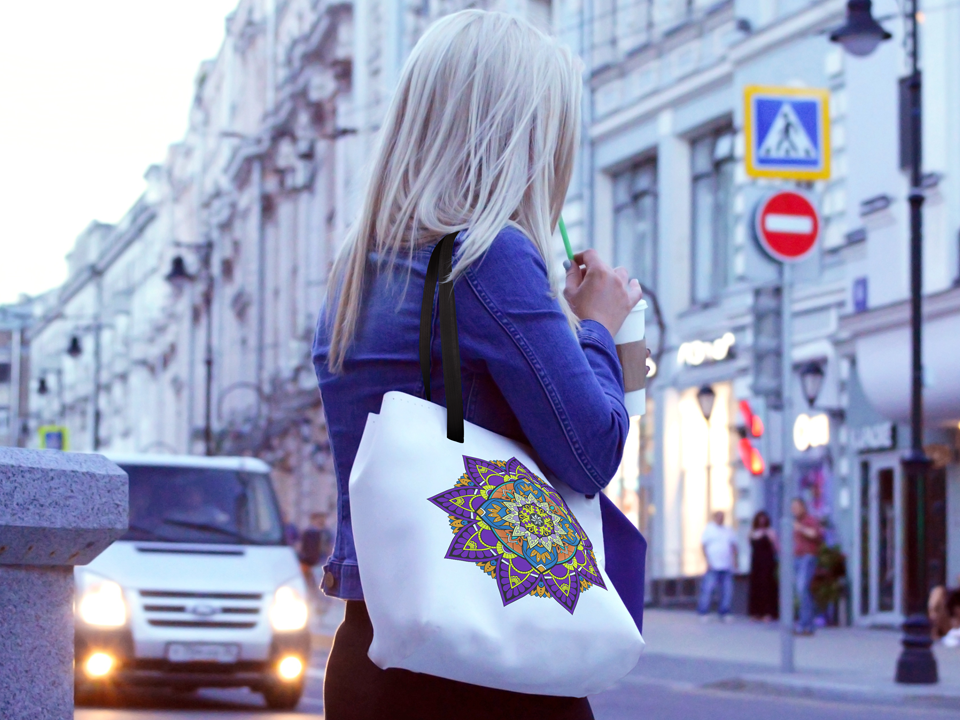 What's cool about your mandala is its colors and patterns represent the energy forces within you, and with 303,595,775 possible combinations you can be sure your mandala is unique to you.
How do we create your Tote Bag?
First, we find your Power Symbol. It's generated from the energy associated with your name, your date of birth, your place of birth and time (if known).
You can go here to generate your Personal Power Symbol.
Then we'll print your Symbol onto the fabric before we cut and hand-sew it. We use sublimation printing because it's the best. It means there's no fading because the fibers are fully saturated with vibrant color.
How Does My Tote Bag Look?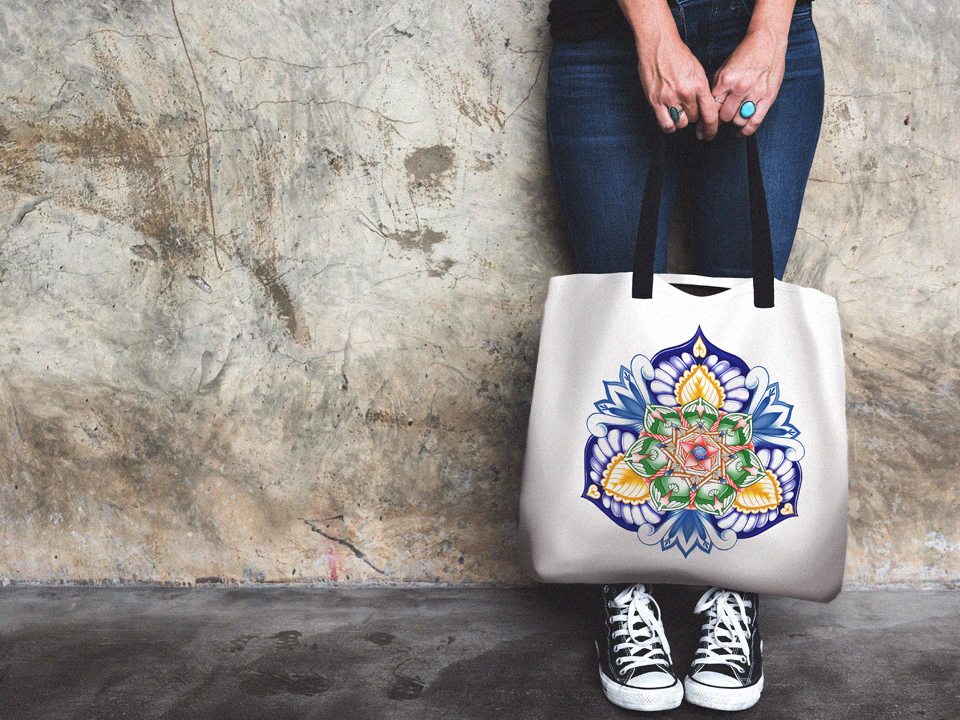 There's no need to wonder how your customized tote bag will look. Because when you log in at YourPersonalPowerSymbol.com and navigate to the Tote Bag Category, you'll see a rendition of exactly how it looks. Just click to buy, and it's on the way to your door.
Celebrate Your Unique Power and Purpose
Who knew? That a custom tote bag could be so awesome.
It's a perfect way to be mindful of your power and purpose in the world.
It makes a great gift idea, too. That's why when you choose "Send as a Gift" you can enter your loved one's details and see how their Power Symbol Tote Bag looks, too. We can even ship it directly to them.
Bonus
Want to know more about the meaning of your Mandala Symbol?
Well, it couldn't be easier. Because when you order your Tote Bag today, you'll also receive Mandala Magic.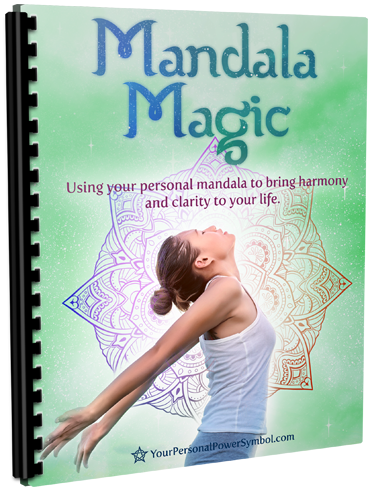 This remarkable 30-page guide explains all the meaning behind all the geometric shapes and colors of your mandala. And, if you're a meditation enthusiast, you'll love the five guided-meditations which use your mandala to create powerful subconscious patterns.
Go ahead and create your Personal Power Symbol now when you register at YourPersonalPowerSymbol.com
Custom Tote Bags Are Just The Beginning
That's right. Your Power Symbol can be displayed in other ways, too.
That's because over the ages many other art forms have been used to express the energy of symbols, including jewelry, amulets, mandalas, hieroglyphs, architecture, and even tattoos.
So come see a range of exciting ways to celebrate your Power Symbol and fascinating PDFs explaining its meaning and how to use your Symbol to bring power and clarity to your life.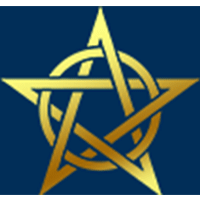 Your Personal Power Symbol is the numerology of your name & the astrology of your date of birth manifested as a unique symbol. It tells the story of your Soul's journey. See how stunning your Power Symbol is at  YourPersonalPowerSymbol.com